Things You Can Do to Increase Your Sales Right Now
Generating more revenue is a major concern for many businesses. A good place for most companies to start is to find ways to increase sales. Closing a sale helps attain business growth and success. That is why many entrepreneurs wonder what tactics and strategies they can use. While there may be differences depending on the company's situation and needs, there are also common techniques and tips that can apply to any business.
We have more than 20 years of sales experience in just about every industry and love sharing the knowledge we've learned. Our focus is always on helping businesses grow based on higher sales and the better margins they bring. Here are the most effective and, for some, most cost-efficient ways to increase sales.
1. Getting Started: Discuss How to Increase Sales Performance with Your Team
Everyone involved in the creation and implementation of sales strategies should first be aware of what it means. While sales are often seen as synonymous with revenue, these two are different. Generally, sales refer to the number of units of products a company sells. On the other hand, revenue refers to the money generated through sales. It is also known as profit. Once the concepts are clear, the sales team can start planning strategies to address the business's needs. The company should also discuss whether it would opt for outsourced sales or depend on an internal team.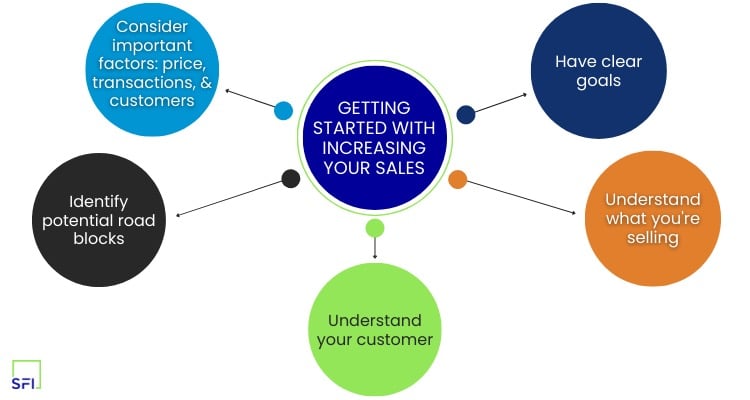 Here are some other essential factors to consider:
Getting more customers – Bringing in more new customers often leads to higher sales. Thus, allowing the company to earn more.
Increasing the average transaction size – Having customers is important. But, getting your existing customers to purchase more is one of the most effective ways to increase sales. The more items a client purchases, the more sales revenue the company earns.
Encouraging more transactions – Repeat customers are beneficial for businesses. Therefore, it is essential to think of ways to increase the frequency of transactions of each customer. If the average customer purchases once a month, consider applying strategies that could make them patronize the business more frequently. For instance, 

if you improve customer service or the overall customer experience you can increase customer loyalty with your existing customer base and see an increase in sales.

Reviewing prices –

As you continue to do research on your competition, it also important to review the pricing strategies of the company

. Are they charging less or more for similar products or services? What is the advantage of your offerings compared to theirs?
Using this information, consider increasing or lowering your prices. Make sure they are aligned with the company's goals. Each one has its advantages. So, it is essential to discuss the pros and cons of them both. For instance, lowering prices can increase sales volume as people are more likely to get attracted to products or services if they know they can save money. However, that doesn't always mean you'll bring in more money. Meanwhile, higher prices can increase revenue, but it does not necessarily increase sales.
Other costs to consider – After figuring out what the target market wants and needs, the next step is to determine how it will make a profit in selling the product or offering the service. Consider manufacturing costs for products. Then, think about the overhead costs to sell the products or services and run the business. Use all pieces of information to find out the break-even point. That will determine how to set prices. It is also important to note potential sales volumes considering various price levels. This way, the company can figure out the price that will help it generate its desired revenue.

Have Clear Goals
Every plan needs to have a goal that's used to determine the strategies to employ. Your goal should align with the direction you wish to take the company. Start by defining what success is for the business. What type of results does it want to see? For instance, a common goal for start-ups is to achieve profitability. Once the company survives that phase, the next goal is to increase sales and revenues to achieve growth. After outlining clear objectives and identifying what drives sales, the company can focus on planned activities to help achieve the said goals.
Understand What You're Selling
This one may seem obvious, but it's important everyone on your team is on the same page. That way, you can ensure your brand is being consistently presented. What are the key features of the product/service? What is your company's competitive advantage over competitors? Once you know exactly what you're selling, that will help you figure out how to sell it. Another important part of this is providing your sales team with the proper training and branding materials they'll need to market and sell you business. These things include ongoing training, business cards, flyers, branded clothing, etc.
Understand Your Customer
A customer is a business's most important asset whether it be buying a product/service or advocating for that product/service. Creating a buyer persona is always a good place to start. A buyer persona is a "semi-fictional representations of your ideal customer based on data and research." When creating a buyer persona, you'll want to consider things like market research, past customers, any surveys they've filled out, focus groups, insight from your sales team, etc. Be sure to understand your customers' pain points and how exactly your company can help, improve, or solve their problem. Your sales team and business as a whole should always keep customer benefits front and center.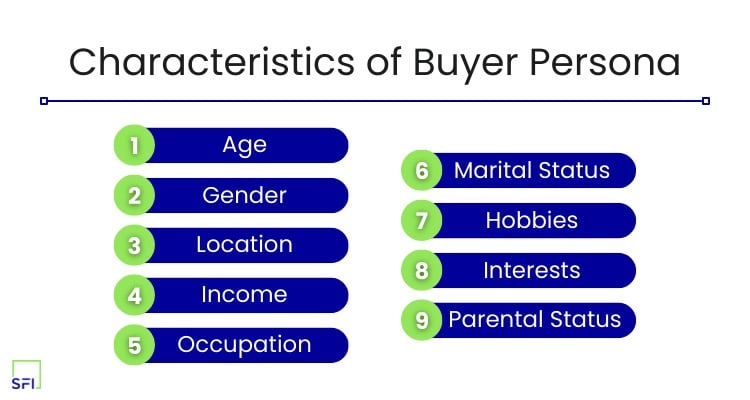 Identify Potential Road Blocks
Identifying road blocks will help minimize your potential risks and improve your sales strategy. Work with everyone in your company, not just your sales team, to identify what is and isn't working. Then, use this information to improve your processes and cut down on revenue losses and other potentially negative factors.
2. Plan a Powerful Marketing Campaign
To increase sales, it is crucial to have an effective strategy. One aspect to focus on is marketing. The concept can be a bit overwhelming for some. After all, it covers a wide variety of activities – from pre-launch to post-introduction of campaigns. Knowing the four major dimensions can help you understand marketing better so that you can start implementing ways to increase sales.
Product development – While a winning idea for a service or product is necessary, it is more important to develop it into something that will sell. That means the company or its sales team should conduct market research. What is appealing to your target audience? What makes the product or service beneficial for them? Why do consumers buy products or get services similar to what you have to offer? Collect all relevant information and use them to add or remove certain features to the product or service to make it more useful, affordable, and appealing.
Distribution options – When selling products or services, a company needs to consider its resources and base its brand strategy decisions. There are various distribution options available. The company can sell its products through a retail store. It can also opt to allow direct sales through an online shop. Another option is to hire outsourced sales service providers.
Promotion – A significant part of a marketing plan is promotion. What elements and tools should the company use? There are various options available, such as traditional advertising through print and broadcast, sponsorships, endorsements, events, social media campaigns, and in-store activities. Consider hosting contests and offering rebates or coupons. Depending on the marketing budget, the company can plan how much it will spend on advertising, public relations, and promotions.
Review Marketing Metrics
Gaining new customers is the most expensive aspect of your sales and cutting those costs while improving results is the name of the game for customer acquisition. Most likely, you're marketing yourself across several channels and sources, and they all perform very differently. In the current day and age, it's great to have access to channels and tools that will tell you your efficiency in attracting customers. However, not everything you do for marketing provides that information.
Try to capture the actual performance of each channel you use. A way to know the effectiveness of a mailer might include an offer specific to it. Compare the cost and results of each particular initiative. Use a CRM to track as many of these metrics as you can. Many of these systems can take care a lot of the digital data for you and make comprehensive reports with minimal work. This might be surprising, but after a thorough review of marketing metrics, most companies find that low-cost sources provide the best bang for their buck. Now, shift your budget accordingly.
Establish a Consistent Content Strategy
We're all marketing online but often utilize inconsistent strategies or messages across channels. Your customers are on a journey, and that journey needs to keep them on the same path that leads directly to you. That's not to say different social media platforms don't need different strategies. However, your company's messaging and branding should be consistent across all platforms and mediums, not just digital ones.
Your people know where the company's expertise lies and can enhance the message to customers through thought leadership. Take that consistent, cross-channel message, establish that leadership, and finish with engagement.
All content is not created equal, and the best content comes from exploiting what your competitors might have missed or the holes they've left due to dry content that doesn't engage or move customers. Produce content that engages with people and takes risks. The use of a consistent call-to-action after your moving content will create calls to your sales team, online requests for demos, or outright purchases.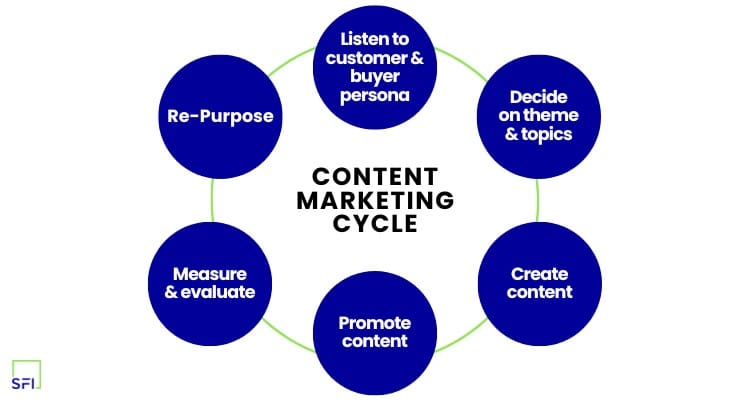 3. Develop Strong Relationships with New and Existing Customers
Relationships are essential in business. One way of increasing sales is to attract new customers. However, it's also necessary to ensure that current customers will continue choosing your products/services or recommended them to others. Having a comprehensive resource center will help give customers access to various products or services. Good customer service that addresses concerns and complaints promptly will also be an advantage for the company. Making customers feel heard and appreciated can convince them to continue purchasing from your company, boosting sales and revenue.
Bring Customers Back More Often
Acquiring new customers is great, but it can be costly. Cultivating more business sooner from existing or past customers is incredibly inexpensive and highly effective. It can be as simple as reminding them you're still here. Chances are, they've thought about another product or service from you but have repeatedly forgotten to pull the trigger.
A campaign might consist of targeted emails and digital marketing or a direct mail card with a sales team member follow-up. Tying in an enticing offer can be a great motivator. Whatever you do, frame it as a campaign that has a specified period with benchmarks that you have determined with your team. That way, you can keep track of how effective it actually was for the business.
A great reason to approach past customers is to get feedback, even from ones that decide not to buy again.Talking with them could lead to a great new product, service, improvement, or add-on idea.
Increase Add-Ons
The cheapest way to increase sales is at the point of purchase. There is a good reason the grocery store tempts you with candy and soda at the register. What's a little extra money to get more enjoyment from your shopping experience.
Add-ons can increase customer enjoyment and give them confidence in their potential to improve productivity or the value of their purchase. Add-ons not only increase sales at little to no extra cost to the company and bring in more revanue, but they make the customer happy.
Whether your company is B2B or B2C, add-ons you might have missed could benefit your sales substantially. Sit down with your salespeople and brainstorm. What are high-margin items that improve the customer experience, and how can they best be offered as an add-on?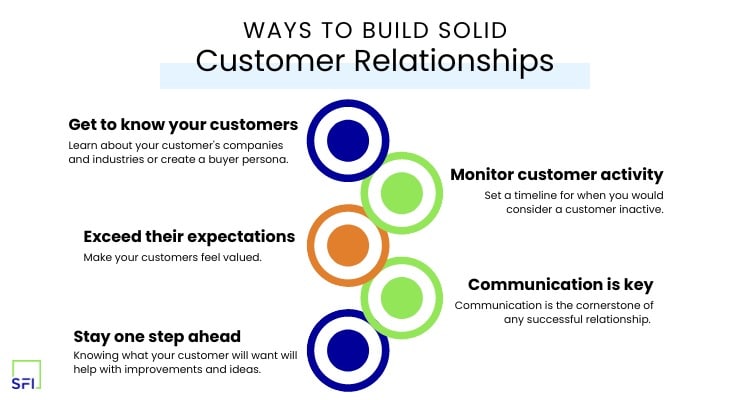 4. Work with a Sales Outsourcing Company
After reviewing all the ways to increase sales, the next step is for the company to find the best team. While some companies have an internal sales team, others opt to leave the job to experienced professionals.
Outsourced sales are a good consideration. With this, the company leaves the sales aspect to a third-party service provider. This vendor is composed of individuals who have the necessary skills and experience to address the needs of a company in terms of sales, from the development of campaigns to execution.
Among the common advantages to choosing sales outsourcing are the following:
Lower company expenses while increasing sales and revenue
Widening market coverage
Quick response to market
Improving customer satisfaction and client retention
Outsourcing your sales can result in savings while growing revenue and widening market coverage. For new businesses or those that haven't established a sales department, this can be an excellent strategy instead of ramping up a new team without the necessary expertise.
If you're bringing a new product to market, the quickest response time will come from an outsourced team. The sooner sales begin, the faster the company generates cash flow and revenue. There is no situation in which later income is preferable to income now. That's something Sales Focus Inc. can help you with. We guarantee to launch your new dedicated and well-trained sales team within 45 days.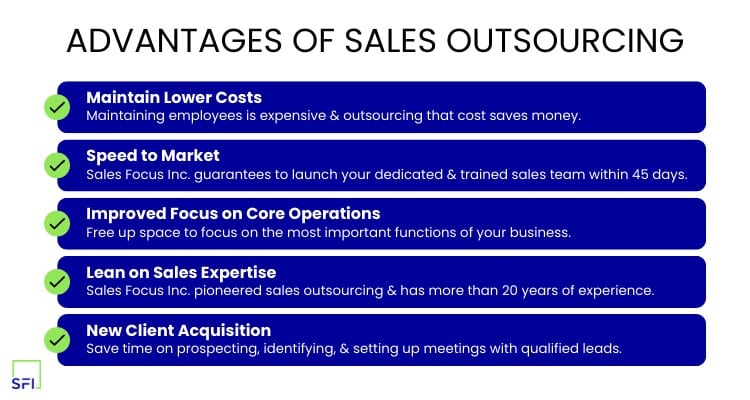 Conclusion
Like all things, there are processes and strategies that are more effective and cost-efficient that you may want to consider at some point in your growth cycle. We always start with strategies with the highest revenue potential and lowest costs. From the list above, these include the add-ons, targeting past customers, and creating a valuable content strategy.
Knowing some general ways to increase sales is necessary for a company to generate more revenue. However, it is also vital to have the right people on the job. Companies that want to have professionals who have the right skills, experience, and tools as soon as possible should consider sales outsourcing.
If you're interested in learning more about sales outsourcing and how it could be the sales solution you've been searching for, contact us or call us at (866) 840-8305.